The Young and the Restless Breaking News: Danny Trejo Guest Stars!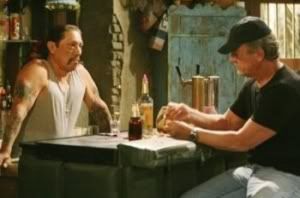 When You're Down And Out Who Better To Turn To Than A Bartender!
Having appeared alongside some big name stars, Danny Trejo is best known for his rough roles in such films as Con Air, Anaconda, Once Upon a Time in Mexico, and Desperado just to name a small few! But in a soap opera?
You heard right! Come Monday, August 11, 2008, he'll be showing up on the canvas of The Young and the Restless. Without giving anything a way, Danny will play a bartender who will be interacting with one of the biggest names on the show – Victor Newman!
SoapOperaFan.com is very excited about Danny's appearance and wants to send him a big welcome to the show!
Photo Credit: CBS
Fun fact! Amy Mistretta wrote this story just for you on July 31st, 2008 |