The Young and the Restless' Joshua Morrow Spotted At Sea World!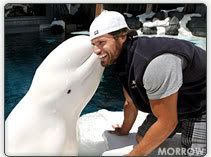 From kissing hotties onscreen to kissing… beluga whales?
The Young and the Restless actor Joshua Morrow (Nick Newman) was recently spotted during a trip down south having some fun at Sea World with his wife Tobe and their three sons, Cooper, Crew and Cash!
Joshua had a blast and was excited that his three-year old, Crew, wasn't even afraid of the big mammals! Although Joshua enjoyed watching Crew feed a walrus, he and his wife loved seeing Shamu again – after being away from the park for so long.
Soap Opera Fan Blog is happy that Joshua was able to take some time out with his family and enjoy all that Sea World has to offer!
Remember fans, if you happen to come across a soap star – or two – while on your own outing, we want to hear about it! Drop us an email, and don't forget to snap some photos too!
Photo Credit: Joshua Morrow/TheYoungandTheRestless.com
Fun fact! Amy Mistretta wrote this story just for you on September 10th, 2008 |